---
Antonio Porchia, was born in the Conflenti town, in Calabria, Italy in november 25 of 1886, he lived in Argentina since 1901, the first collection of Porchia's "Voices" appeared in Argentina in a private edition in 1943. A copy was sent by Porchia to the French critic Roger Caillois, who was moved to translate a selection of the "Voices" and publish them in 1949. Caillois, wanting to find out what sort of man had written and sent this surprising volume, had looked into the matter and: "found myself in the presence of man somewhere in his fifties, respectably-though neither studiously nor elegantly-dressed; a potter or carpenter by trade, I forget wich, and self-employed, what is more; At once simple and shy".
"Voices" represents the whole of his writing- some six hundred entries in all. There are several editions since the first one. "Voices" was translated to English by W.S. Merwin and publish them in 1969. Of the originality of these poems, Mr. Merwin comments in a succint introduction: "The aphorisms are not, in his view, compositions of his own so much emanations wich he had heard and set down... The fidelity of Porchia's vision, and its personal embodiment in language, is too sharp, and frequently too desperate, to be tempted to homiletics. On the contrary, the distillate of suffering... is pure and profund irony an irony not of defense but of acceptance." Porchia died at 82 years old in Buenos Aires in November 9 of 1968.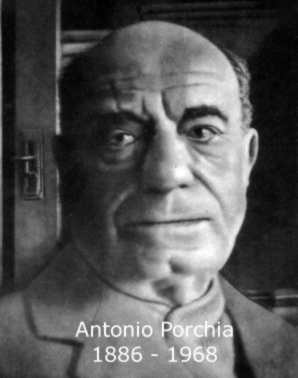 A wing is neither heaven nor earth.
---